Home Inspector Lakeville | Home Inspection (952-583-3701)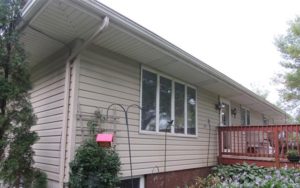 Your home's exterior needs to be more than just attractive. The exterior material, whether it's siding, cedar shake, brick or stone, is what keeps your home sealed from the wind, rain and snow. The exterior components, along with the roof and drainage system, act together to keep the interior of your home warm, dry and moisture-free. All of the parts of your home's exterior must be attached properly. If one piece fails, it ruins the integrity of the entire system.
The exterior inspection will go over the entire outside of your home checking for any and everything that can possibly be wrong. The siding, soffits and fascias, windows and doors, decks, even the driveway and walkways are inspected thoroughly for any existing or potential problems. In some cases, something as minor as a missing nail may be reported. In other cases, rot or mold may be found. After the inspection is completed as the standard portion of the inspection, the inspector will provide you a detailed report with picture of their findings within 24 hours or less.
Inspections aren't just for when the house is being sold. Ongoing inspections are an important part of the maintenance routine. By getting a home inspection it validates the results and proves the continued value of your investment in the house. Give us a call today!
Home Inspector Lakeville | Home Inspection (952-583-3701)