Home Inspector Lakeville | Home Inspection (952-583-3701)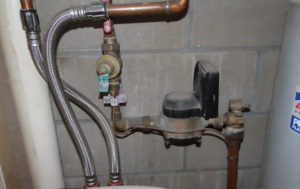 A well-maintained plumbing system is essential for giving you access to clean water. Plumbing inspections are recommended to be done annually or if you are buying or selling your home. This practice can help you avoid plumbing issues that can occur if plumbing maintenance is ignored.
A frequently inspected plumbing system will save you a lot of fortune because an ounce of prevention is worth a pound of cure, and preventing serious plumbing problems on your property is well worth it. Even a small leak can damage your property.
The inspector will make sure to check the following in a plumbing inspection:
The inspector will check the water pressure in your lines. High water pressure can damage plumbing fixtures while low water pressure is caused by the leaked underground water line.
Will examine fixtures, supply lines and drains for water flow problems
The flow in kitchen sinks and drains is checked to make sure that they are not clogged
Check for running toilets that can cause your water bills to rise
Offer a Sewer Scope Inspection to look for damaged pipes or blockage in the sewer system
In addition to the plumbing inspection, an expert inspector will also check your washing appliances for any possible problem that can cause wastage of water
Old pipes are checked carefully to see whether they should be replaced or not
A technician will inspect all the filtration systems of the house
Shut-off valves will also be checked carefully
Prevention is better than the cure; it is not only less expensive but a lot more effective at times the benefits of detecting a problem before it causes serious issues are as under:
Improved water flow- A regularly maintained plumbing system will free of leaks, mineral buildup, or other plumbing issues. A good water flow is the added benefit you get from preventative plumbing inspections. Due to leaks, mineral buildup, or other plumbing related problems your plumbing system may suffer from a low water flow. Increased water flow is just an added benefit that may go along with regular plumbing maintenance.
Longer lifespan of the plumbing system- A regular inspection can help your pipes to be clog and leak free which will make them long-lasting. The stress on your plumbing system shortens its lifespan and reduces the pressure of water flow. An efficient inspector helps you extend the life of your pipes by detecting the problems in their initial stages. Moreover, a technician will also inspect your water heater and other fixtures so that they keep functioning smoothly for a longer duration.
Reduced water bills- The water wastage through leaking pipes and running toilets, or any other fixture, results in high utility bills. A professional inspection can help you lower your bills by fixing the root cause of the wastage.
Better indoor air quality- A constant leak from faucets, pipes or any other fixtures causes mold and mildew to grow which are responsible for contributing to the poor air quality in your indoor environment. By having your plumbing inspected you can tackle these problems even before they arise.
Increased home efficiency- The inspector will be able to point out the problems with your plumbing system. They will recommend remedies to keep a better water flow while consuming less energy and making your plumbing system more efficient.
Fewer repairs- A regular maintenance helps reduce the risk of a costly repair that a minor clog or a leaking pipe can cause. The inspector will inform you of the issues and you can fix minor plumbing issues early on before they can cause you the real damage.
Lower risk of plumbing emergencies- Plumbing emergencies are devastating and destructive. The root cause of these emergencies are those hidden problems that build up with time, a clogged draining system is not only expensive to get fixed but it also causes inconvenience in your day to day work.
A healthier water system to drink from- Keeping your water tanks clean is vital for a healthy lifestyle. If the water tanks are not maintained they can create infestations that can cause damage to the tank, costing you some valuable fortune to get it repaired.
A safer home- We recommend getting your plumbing fixtures inspected to avoid potential harm. For example, an unattended water heating tank can cause devastating consequences. A home with well-maintained plumbing systems is a lot safer than the ones who take their plumbing maintenance lightly.
In a nutshell, it is better to be proactive than to be reactive, so hire Home Inspector Lakeville and say goodbye to all your plumbing related complications.
Home Inspector Lakeville | Home Inspection (952-583-3701)